Architectural electrochrome glass
Electrochromic glass can be successfully used not only on vehicles, but also in the interior and exterior of buildings and structures.
Electrochromic glass used for interior glazing is generally used for decorative purposes, e.g. to provide switchable privacy zones when necessary (inspection zones, cash registers, meeting rooms, etc.), as well as to execute designer plans, e.g. for zoning rooms. At the same time, the use of electrochromic glass is safe due to the low DC supply voltage even in wet rooms.
The use of electrochromic glass for glazing facades or as window glass not only gives the building a modern look, but also provides significant cost savings in operation. Electrochromic glass completely blocks ultraviolet radiation, so the interior will not burn out, the rich colors of carpets and furniture will remain bright. Electrochromic glass does not pass infrared radiation, respectively, hot summer room will be heated less, and in cold winter heat will not leave the room through the window apertures.
But the function of controlled glass dimming is especially important. So at sunny noon it is simply enough to darken the glass and save the person in the room from the excessively bright sun that interferes with work, for example on a computer or watching TV. In the evening, you can uncolor the glass and postpone switching on the artificial lighting, which also brings significant savings.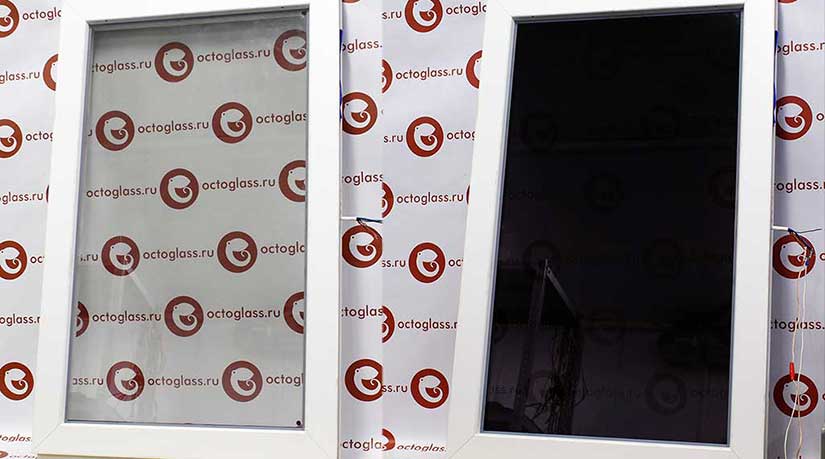 In extremely northern regions, where people do not experience excess sunlight, electrochromic glass also finds its application. The dimming system will help cope with insomnia caused by long polar summers when the sun has not left the sky for months.
Facade electrochromic glazing will not be superfluous also to provide additional privacy. The function is in demand not only for commercial, but also for domestic applications. It is not a secret that residents or workers of the first and second floors of buildings often become objects of surveillance and at certain points it is necessary to provide protection from the view of others.
Electrochromic Glass Octoglass can be produced to customer's individual order with any shade. Main colours available:
Colors by RGB% model taken from real production Oktoglass
Octoglass produces architectural glass of different shapes and tint colors. And thanks to the developed corporate control system, electrochromic glazing can be flexibly implemented in the control system of "Smart House".